Have you seen this dress pattern from Ellie and Mac? It's soo cute! It's called the Essential Dolman Dress. Check it out! ⤵
In this post I'll show you some ideas on how to style the dress. And who am I? I'm Jessica! I write posts about sewing and gardening on my own blog called Let's Go Hobby. But I also love being a guest blogger here. Let's chat about this great dress pattern!
Start with the Basics
I'll start by talking about the dress and the options I used for my sew so you can get an idea about what's possible with the pattern. Here are the options from the Essential Dolman Dress Pattern in graphic form:
Essential Dolman Dress Pattern Options
Bodice Options:
Neckline Options:
Skirt Options
Mini
Mid-Thigh
Knee-Length
Maxi Length
My Dress
The options I chose for the dress pictured here are One Piece, Scoop Neckline, and Knee-Length. I used an unknown fabric type from the Walmart remnants bins. It feels like a ponte and has a really fun embroidered looking texture.
The stretch is lower than the pattern lists as optimal (the pattern instructions say 50% 4-way stretch). I knew it would work for the dress since it's a relaxed fit, but I wasn't sure if the fabric would work for the neckband. I decided to try it anyway at a longer length, and I'm happy to report that it worked great!
Ideas for Styling
1. Keep it simple! Throw on a pair of earrings and heels and have a fun time!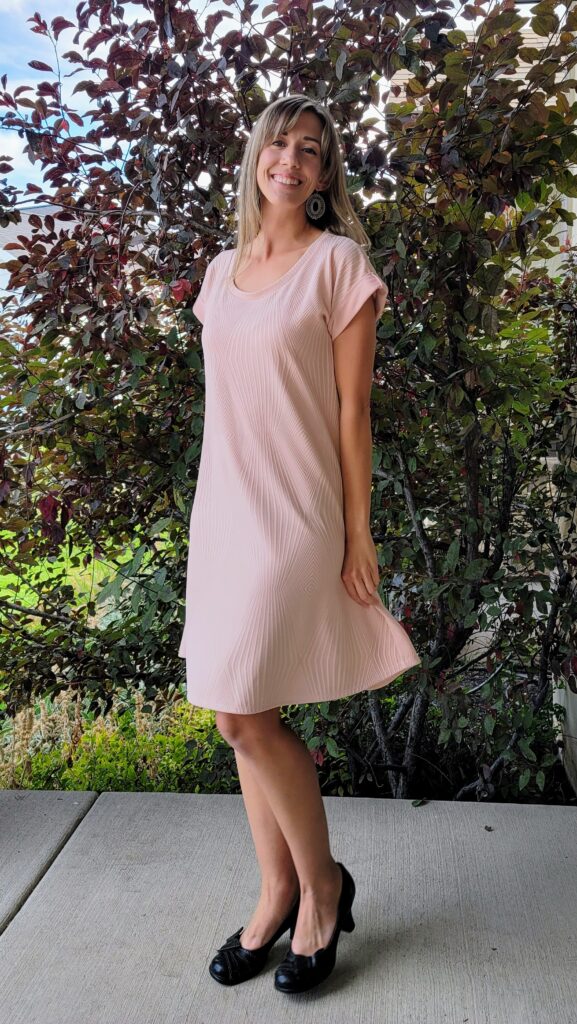 ---
2. Change your shoes! Try out some wedges for a slightly more casual look.
---
3. Put on a belt! I sewed this one out of the same fabric as the dress, but a contrasting belt would be cute too.
---
4. Pop casual shoes on your feet for a more casual look. I chose flip-flops!
---
5. Put on a matching or coordinating headband. I made this one using the Free Ear Warmer Headband Pattern. I did modify the pattern. I just cut straight across the pattern so that the pattern pieces were rectangles which effectively removes the ear warming part but keeps the twist! Super easy.
---
6. Pair the dress with a cardigan! Get more use out of your beautiful make by finding or making a cardigan that will keep you warm on cold days. This is the High Hopes Dolman Pattern hacked to be a cardigan. I love the big batwing sleeves, it's soo cozy!
I wish I could show you a cute necklace to go with the dress, that would look amazing, I'm sure. But, I need to buy or make one first! Perhaps you have the perfect necklace to pair with your dress though?
Where to Find the Sewing Patterns
I hope I've given you some fun ideas on how to style the Ellie and Mac Essential Dolman Dress Pattern! Here are the links to the patterns I used so you can easily find them if you want to sew them up:
Questions?
If you have any questions, feel free to reach out to me! -
More Posts
I hope you enjoyed this how to style it post. If you're interested in reading more posts by me on the Ellie and Mac Blog, you can find them with the links below 😀 :
This post contains affiliate links. The patterns are still the same cost for you, but if you use my links, I'll get a tiny bit of the cost. This allows me to buy more fabric so I can write more blog posts for you!
(Written by: Jessica Luckert)