Hey all you awesome Ellie and Mac Blog Readers! Hope you are having a fantastic day!
I'm Jessica from Let's Go Hobby (A blog about hobbies, like - sewing for example ;)).
I'm back visiting today to write another (hopefully) fun blog post for you all.
If you missed my previous posts for Ellie and Mac, you can click on the links below to check those out!
Now, onto todays topic...
What to do?!
I can't tell you how many Christmas mornings I've woken up, and in an inner monologue discourse, wondered something like...
Should I change? Or should I just stay in my pajamas? Do I want to be photographed in my pajamas? Maybe I should just change into a cute pajama shirt! Is there one clean?

- Jessica's Thoughts
Perhaps you've had a similar experience on a holiday morning? Or maybe while vacationing with people you don't normally live with? Or answering the door too early in the morning?
Really any time you want to look cute in the morning.
What to wear!?
This year, I have found my solution. Perhaps it could be your solution too. That is...
The Solution
...make some cute lounge wear! Something comfortable enough to sleep in, but cute enough to wear around anyone, and even be photographed in.
With this objective in mind, I chose two super cute (but comfortable too!) Ellie and Mac patterns:
Have you seen these two patterns?
1st Choice: Adult Sew Scrappy Top Pattern
The Sew Scrappy Top Pattern is a fun one, and it's just like it sounds - a shirt made using scraps. An awesome scrap buster! This also allows you to easily incorporate some of your chosen pants fabric for a coordinated look, but without looking too matchy matchy.
Options include:
Long or short sleeves
Sewn stripe sleeve detail on the long sleeves option
Crew neck or hood
Braided knit strings for the hood
Here's the line drawing for the Sew Scrappy Top Pattern: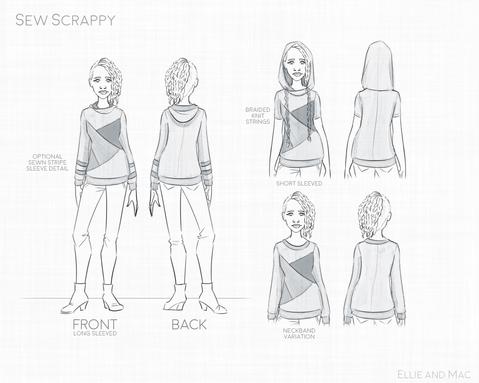 I like how, while it is made with scraps, it's designed in a way that's very purposeful. It looks fun, but a little chic too.
2nd Choice: Adult Good Vibes Jogger Pattern
The Good Vibes Jogger Pattern is really cute. The pants can be made slim fit or loose fit depending on what look you want, as well as what fabric you have available. For fabrics with less stretch, you can still make these, you just make the loose fit version.
Options Include:
Shorts, Capris, or Full Length Pants
High Rise or Low Rise Waist
Yoga or 2 Types of Elastic Waistbands
Slim Fit or Loose Fit
Here's the line drawing:
How Was the Sew?
I think the outfit turned out awesome. It's exactly how I pictured it:
Cute
Comfortable
Stylish
Not Embarrassing
Sew Scrappy Top Pattern Details
For the Sew Scrappy Top, I chose to use the same fabric I used for the Joggers to coordinate the outfit. I also used a navy blue sweatshirt material, and a thin rayon spandex for the sleeves. The sleeve fabric is actually a little see through, but that's absolutely perfect for sleeves!
On each seam, I topstitched the seam inside down toward the hem of the shirt with a straight stitch. None of my bodice fabrics were very stretchy, so the straight stitch at a length 3.5 worked well here.
Speaking of stretch in the fabric, I knew that the navy blue fabric was soft, but might be tight for the cuffs. I tried the cuff on before attaching it to the sleeve, and sure enough, it was too tight. My fault, I didn't use the prescribed fabric listed in the PDF pattern file!
To make them wider, I inserted a strip of the reindeer fabric into the cuff. And I think it actually added a really cute detail as you can see in the picture below!
Here's the back of the Sew Scrappy Top:
I love how this pattern thought of every scrappy idea! The back is actually two pieces so you can use 2 different fabrics if you chose. I chose to use just the reindeer fabric since I had more of that, so I pattern matched the 2 mirrored pieces.
Good Vibes Jogger Pattern Details
For the Good Vibes Joggers I chose the slim fit version and used a sweater knit. The sweater knit only has 2 way stretch, so I probably should have sized up. But, I fall right in the middle of the measurements of my size, so this worked out for me, phew.
If you are at the top of the measurements for your size with a not too stretchy fabric, I would recommend sizing up one!
I used the basic elastic waistband with 1.5 inch elastic. If you happen to only have the regular type of elastic and not the non-roll kind, you might want to run a zig zag stitch across the center of the band so that the elastic stays flat inside. If you buy the non-roll elastic, you won't need to worry about that step.
I'm Excited for Winter Mornings!
I never thought I'd say that last header. Excited for winter mornings? My jam is Summer, but this new lounge wear rocks!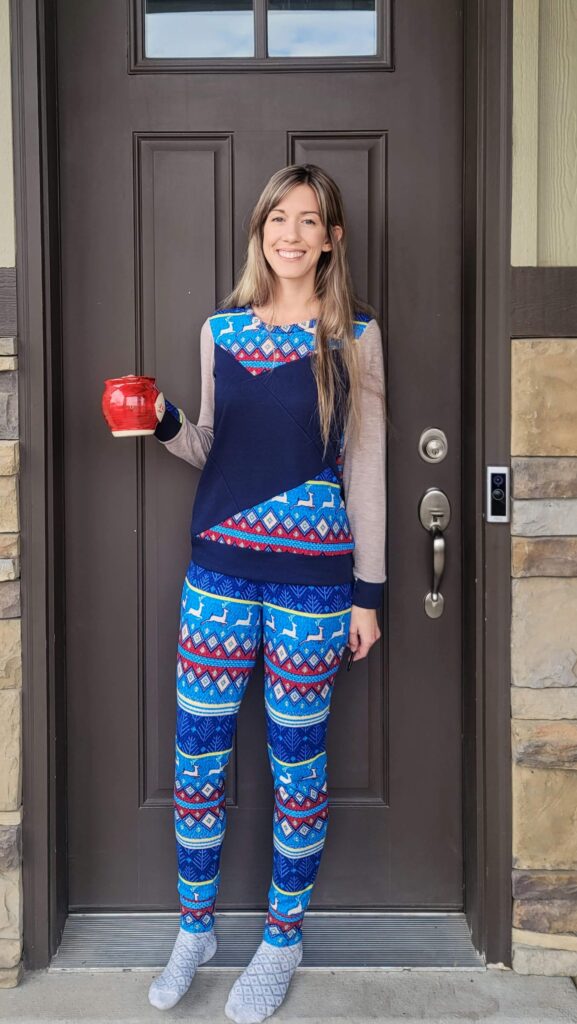 By the way, if this outfit looks to warm for you. Remember, there are short sleeves and shorts options for these patterns!
Questions?
Hope you enjoyed this post! If you have any questions, feel free to reach out to me!
Instagram - www.instagram.com/sewletsgohobby
Facebook - www.facebook.com/letsgohobby
My Blog - www.letsgohobby.com
Email - letsgohobby@letsgohobby.com
If you happen to make this combo, tag me on social media, I'd love to see it!!
(Written by: Jessica Luckert)