This post contains affiliate links with no extra cost to you.
Hi all! I'm here to tell you about an amazing way to make sewing easier, fun, and even more exciting.
Who am I? I'm Jessica, I have a blog called Let's Go Hobby (www.letsgohobby.com) and I also do work for Ellie and Mac. Plus I've written a number of blog posts for the Ellie and Mac blog in the past, you can see those HERE.
So, back to the sewing excitement. Where to get it? A sewing subscription box!
Sewing Subscription Box
In the month of April Ellie and Mac Patterns and Indie Stitch teamed up to make sewjo meters peg.
You might be wondering, "what exactly is a sewing subscription box?"
Well, from Indie Stitch, it's a box you receive in the mail that contains literally everything you need to start and finish a sewing project. Plus, a few fun extras.
You can sign up for just 1 month, or choose 6 or 12 months to get a new box with a new pattern and all the supplies plus swag each month.
What's in the box?
Want to know what was inside April's Indie Stitch Box? -
The full Ellie and Mac Button A-Line Skirt Pattern printed on A0 sized paper
A code to get the digital version of the Button A-Line Skirt Pattern
Linen Fabric
Elastic
Universal Needles (Organ Brand)
Matching Gutermann Thread
Interfacing (the right kind!)
Matching buttons
A clip-on selfie light
A sliding ruler gauge
It's so convenient to have everything you need for a sewing project sent right to your house. You don't need to figure out the yardage needed, or check to see if you have the correct buttons, or even print the pattern.
And the interfacing! I have a hard time knowing which interfacing to use, do you? I love that the correct kind and amount was included. Even the correct color thread and the right needle was ready to pop into my machine to get started right away.
I used the selfie light to help make the video below, it was super useful for lighting the skirt up close. And the sliding ruler gauge came in handy for the pocket placement, hemming, and button placement. What cool swag!
See what's in the box!
Click here to see the unboxing!
The linen fabric in my box was black (with a blue tint), but there were 4 other color options with matching thread and buttons that would come with it.
When I've thought about making this pattern in the past, I had imagined heavier weight fabric. But I'm actually glad that the lighter weight linen was picked for me since it made the skirt turn out soo good!
I can tell that the folks at Indie Stitch thought about each part of the box thoughtfully. The buttons were the exact right size to ensure the buttonholes fit inside the placket width.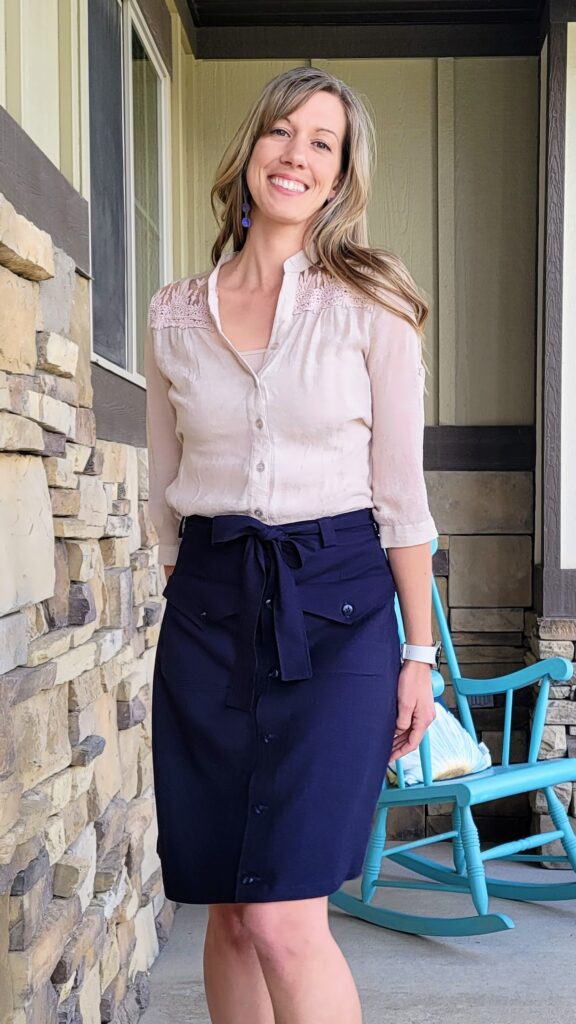 Did I use everything in the Indie Stitch Box? Almost. I didn't end up using the elastic. It's optional to put in the back of the skirt.
Is there anything I needed that wasn't in the box? Just my cutting supplies, iron, and sewing machines!
I also used my projector, but since the digital pattern included (via a code to redeem on the Ellie and Mac website) that was technically part of the box too!
Did I mention that Ellie and Mac has fantastic projector sewing files? On all the newer sewing patterns, the lines are super thick and easy to see, the font is large, and the margins are wide.
About the Sewing Pattern
The Ellie and Mac Button A-Line Skirt is worth talking about too. The line drawing doesn't show the optional front pockets or belt loops, but you can get an idea of the options from the pictures and text.
Button A-Line Skirt Pattern Options
Length Options
Mid-Thigh
Above Knee
Below Knee
Hem Options
Wide Rolled Hem
Scalloped Hem
Placket Options
Buttons
Snaps
Functioning or Faux
Pocket Options
No Pockets
Patch Pockets
Patch Pockets with Flap
Plus options for belt loops and the belt.
I Love the Pattern Instructions
This PDF sewing pattern comes with great instructions with all the details you want and need. I especially love the detailed instructions and photos when making woven patterns since I'm much less experienced with them.
The instructions told me when to press seams, which way to press them, and also when I needed to finish the seams and when I didn't. And I loved the little hints and tips along the way with techniques like darts and topstitching.
And the yoke on the back of the skirt is very flattering and well designed.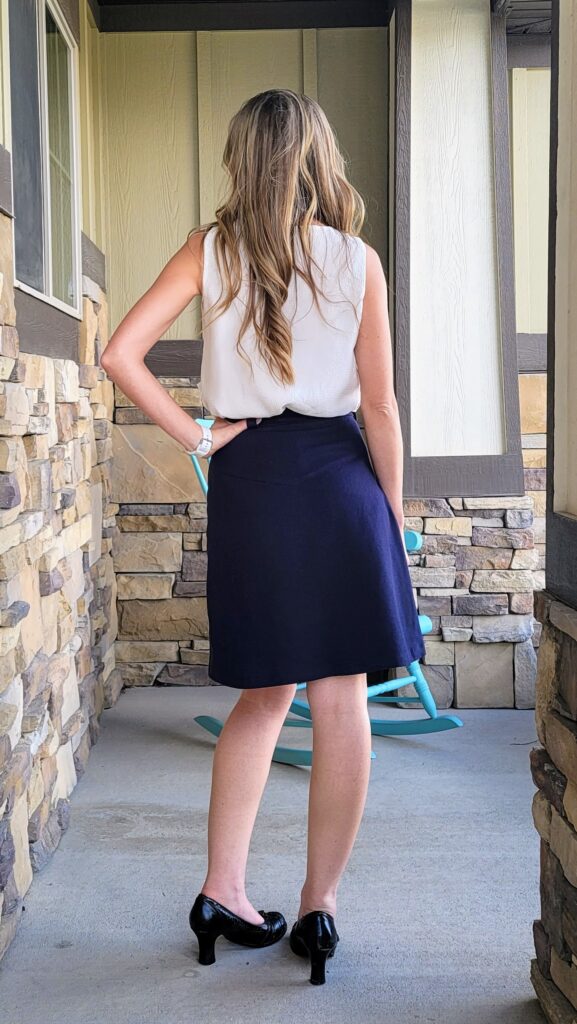 My Skirt
For my skirt I chose the straight above the knee hem, belt loops, pockets with flaps, and a fully functioning button placket.
The Indie Stitch box came with plenty of fabric to make all of this including the belt. And 8 buttons which was the right amount for the skirt. I love that I didn't have to go button hunting for this sewing project!
Here is the skirt without the tie belt. I think it looks cute this way too.
Did you notice my outfit changes? I love that the skirt goes with so many different tops and depending on your top and shoes, you can make the outfit more dressy or more casual.
I even tried flats and a drop shoulder sweater top.
Sewing Box Thoughts
I really enjoyed the ease of sewing with the Indie Stitch Box. It was incredibly simple to start this sewing project when all the work of figuring out what type of fabric I needed, the yardage, and all the extras were chosen for me.
Plus, I'm a lot more confident after this project that I could sew this pattern or another one similar to it. One of the nice things about the subscription box is that it helps push your sewing skills and confidence to the next level. You get to sew a pattern you might not have picked due to fear.
Since this is an Ellie and Mac Sewing Pattern, it would be hard to get stuck when you have the fabulous instructions and full video sewing tutorial. But, it's also nice that Indie Stitch does a sew along in a private subscribers-only Facebook Group each month. If you have any questions or get stuck with a pattern, you have tons of help.
Lastly, the extra swag in the box is neat. And it's a surprise each time! You never know what handy sewing tool you'll get each month.
Want to snag your own Indie Stitch Box? Click the link below!
Want to grab the Button A-Line Skirt Pattern? Click below -
Thanks
Hope you enjoyed reading about my newest sew and the exciting way it arrived at my house. Thanks for taking the time to read my post! If you have any questions or just want to come hang out with me and chat about sewing online, you can find me on Instagram, Facebook, or my website www.letsgohobby.com.
Until next time...
Happy Sewing!
- Jessica